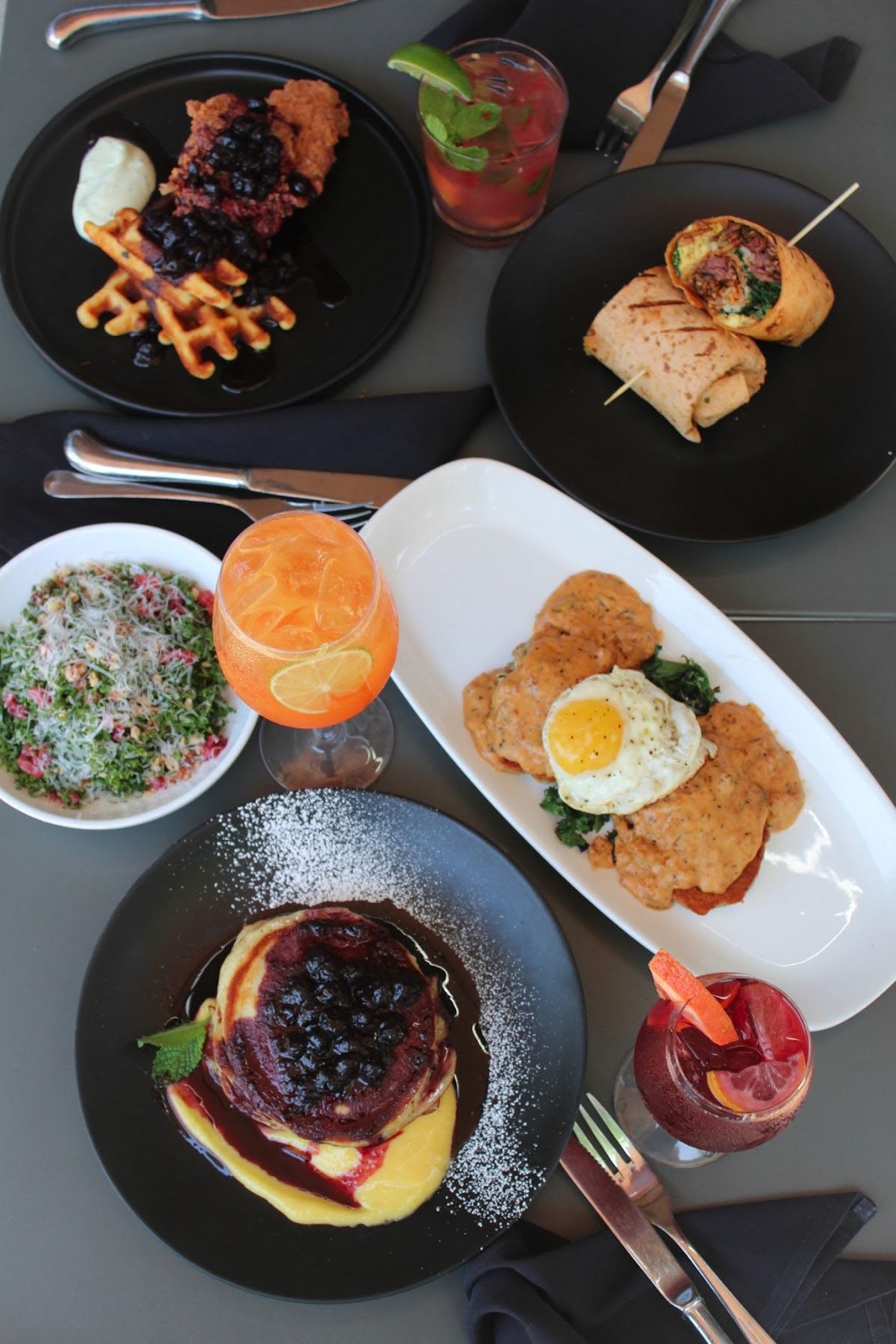 Orange Juice. Bacon. Biscuits and Gravy. Avocado Toast. Bloody Marys. 
Very few meals are as relaxing as brunch. An hour (or two ... or three) to sit and enjoy a meal with no real agenda: Just good conversation and good food (with a couple of cocktails thrown in for good measure). Brunch has always been in the back of our minds here at Dish. 
Five months ago, at the "beginning" of the pandemic, we gathered our team together to talk about the future. We discussed the end of the University of Nebraska's academic year, events at the Lied Center, COVID preparedness; and we announced our plan to launch BRUNCH SERVICE. Thanks to a serious love for the mountains, the ocean, eating - and a couple of transplant sisters - we (Rachel and Marypat) have spent a significant amount of time in Denver and Los Angeles, two cities where weekend daytime dining is serious business.  We were excited to introduce Lincoln to OUR take on the meal we had come to love.
Less than a week later, we closed our doors for dine-in service and drastically changed our way of doing business. Bustling Sunday brunch was out of the picture. We just needed to find a way to stay safe, stay engaged, and responsibly keep our business open. We watched our beloved Downtown Lincoln empty out as students moved home, offices moved to remote work, and the theatres went dark. We pushed ourselves to find new ways to serve our community, but we couldn't get brunch out of our heads. 
As our dining space re-opened, we began to look at the purpose of our restaurant differently. We began to look the space we occupied differently - at how we could welcome people in safely. Our patio was the answer. Our patio that gets a great mix of shade and sun in the late morning. Our patio that is quiet on Sundays around noon. Our patio where guests can gather outdoors, safely and responsibly, and linger with more confidence than they would inside. And nothing says brunch like a patio.
Something about the idea of brunch felt like the cure to the blues we were feeling, too. An excuse to get out of the house: an indulgent, slow-paced, social engagement. Brunch is light and airy. Brunch invites conversation and human connection. The versatility of brunch really spoke to us, too, both from a food AND a service point of view. Over the years our Sunday mornings have been filled with ramen, biscuits and gravy, fried chicken, decadent waffles, and simple grain salads. We've sipped on whiskey and tequila, espresso and tumeric tea. We've sampled vegan sausage that is arguably better than any pork product we've had and Marypat has tried more incarnations of the gluten free donut than she can count. Brunch can take so many forms, and with Rachel's creativity and drive for rotating menus, it's a natural fit. Our service staff, too, needed a chance to smile (from behind their masks) and get really excited about a new concept. 
So, nearly 4 months to the day after we originally pitched the concept to our staff, we opened for our first brunch service. The menu is personal and very authentically "us." Savory, spicy, sweet, and just healthy enough that you can justify that second mimosa. Fresh, locally-driven dishes that rotate with the changing seasons. Sustainable options to suit most diets. Brunch shouldn't be challenging; it should be a treat. We're hear to help you treat yourself.